---
Pistachio is a small tree that originated in the Middle East and Central Asia and grows in countries such as Iran, Syria, Turkmenistan and western Afghanistan. This tree produces fruit that is edible and very tasty. Pistachio is a Persian word that has entered European languages through Latin.
Pistachio is one of the foods with high nutritional value, the benefits that cover almost all body functions. Although all nuts belong to the group of nutritious foods, pistachios are distinguished in particular because of their complete nutritional value and benefits to the body. Pistachio is one of the kernels with the highest amount of fiber and fat and is also rich in vitamins, minerals, proteins and essential fatty acids.
Iranian pistachio
The annual production of pistachios in Iran is about 200,000 tons. Only 10% of this product is consumed domestically and the other 90% is exported. The production and export of Iranian pistachios generates about $ 1.4 billion to $ 1.7 billion annually for Iran. Although Iranian and American pistachios are of the same breed, Iranian pistachios taste better. This is confirmed by many major European distributors.
Pistachio is one of the healthiest nuts, and comes in many varieties:
A) There are three types of tall pistachios: Akbari, Ahmad Aghaei and Badami
B) Round pistachios are of two types: KallehQuchi and Fandoghi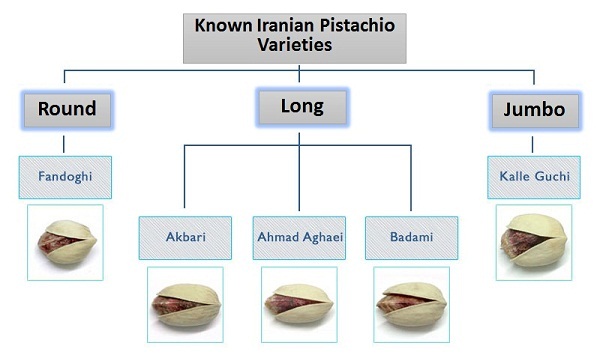 Pistachios are one of the beneficial sources of vitamin B6. These nuts can help increase energy levels and improve skin health, eye health and improve the body's healthy metabolism. Pistachios contain a variety of nutrients such as vitamin B6, thiamine, potassium, copper, magnesium and iron. Another property of pistachios is its healthy unsaturated fats. Pistachios are free of trans fats and cholesterol. Scientific evidence shows that the properties of pistachios can have very positive effects on health.
Properties of pistachios for your heart health
A study on pistachios published in the American Journal of Clinical Nutrition confirms pistachios as a cholesterol-lowering food.The researchers looked at 28 adults whose levels of bad cholesterol (LDL) were higher than allowed and no other disease was reported. The diets tested included a low-fat diet without pistachios, a healthy diet with one serving of pistachios, and a healthy diet with two servings of pistachios per day. Bad cholesterol (LDL) levels were reduced in all people who ate pistachios.
In the context of a heart-healthy diet, this study showed that adding one serving of pistachios per day, containing 10% of total daily calories, reduced bad cholesterol (LDL) by 9%; While consuming more of these nuts (two servings per day) reduced bad cholesterol (LDL) by 12%. High LDL levels are a major risk factor for cardiovascular disease; So by lowering your bad cholesterol levels you can reduce the risk of serious problems. Pistachios also contain antioxidants that are great for heart health.
Properties of pistachios for weight control
Eating pistachios can help you lose weight and maintain a healthy weight. Pistachios with good fats, fiber and protein can help reduce hunger between meals.
Properties of pistachios for eye health
Pistachios are the only nuts that contain significant amounts of known carotenoids such as lutein and zeaxanthin. Carotenoids are a group of pigments that play a very important role in the absorption of light by plants. Lutein and zeaxanthin are also antioxidants found in some foods. Diets containing carotenoids lead to better health by reducing the risk of disease, especially a number of cancers and eye diseases.Lutein and zeaxanthin are the only carotenoids in the retina and lens of the eye. The results of epidemiological studies show that diets rich in lutein and zeaxanthin can help reduce the incidence of disease and cataracts. Macular degeneration is a disease of the retina that occurs with age. In this disease, the yellow spot inside the eye disappears. Carotenoids are better absorbed with the fat in the meal. That's why pistachios contain good fats, making it easier for the body to absorb lutein and zeaxanthin.
Properties of pistachios for diabetes
A study conducted at Pennsylvania State University in 2015 examined the effects of daily consumption of pistachios on a graph of lipid-to-lipoprotein ratio, glycemic control, inflammatory markers, and blood circulation in adults with type 2 diabetes. Participants were divided into two groups, one eating a pistachio-free diet and the other eating a pistachio diet that accounted for 20 percent of the calories consumed.
Although pistachios did not appear to be effective in controlling blood sugar, they had a positive effect on cholesterol, good to bad cholesterol ratios, and triglycerides. Diabetes increases the risk of heart disease and stroke. For people with type 2 diabetes who are looking to improve their cardiometabolic risk factors, eating pistachios regularly can help relieve serious heart problems.