---
Pistachios are one of the oldest nuts in the world. People have been consuming pistachios for thousands of years. Due to the high nutritional value of this product, it can be called "king of nuts"!
Most people of the world have experienced the flavor of pistachios, even if you have not consumed pistachio directly as a nut, you have definitely tasted it in some ice creams and pastries.

Pistachio grows in different regions of the world but its original origin is Iran. Iran and America are the largest producers of pistachios in the world.
Iran is the primary origin of pistachios. The English name Pistachio shows that the origin of this amazing nut, is Iran. Pistachio is a full-fledged Persian name.
The flavor, size and quality of pistachios are different in various regions. Iranian pistachio has various advantages that distinguish it from other competitors.
In this blog, we intend to discuss "the differences between Iranian and American pistachios"!

The difference in terms of types:
There are different types of Iranian pistachios in terms of color, appearance, size and dimensions. they are divided into two general types: long pistachios and round pistachios.
Long pistachio: Akbari, Ahmad Aghaei, Badami
Round pistachio: Kalle Ghochi, fandoghi
While the pistachios of other countries are generally one type. The variety of pistachios of some countries is very limited and they do not differ much in terms of characteristics.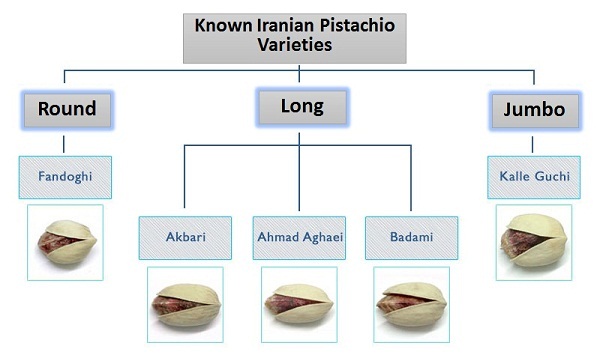 American pistachio cultivars: Kerman, Golden Hills, Gumdrop, Kalle Ghochi, Lost Hills, In the U.S.A (except for the Kerman type pistachio), 3-4 type have been obtained by grafting, which have no advantage over compared to the Kerman pistachio; therefore, the variety of pistachios in this country has not been developed much and Kerman type pistachios have prevailed.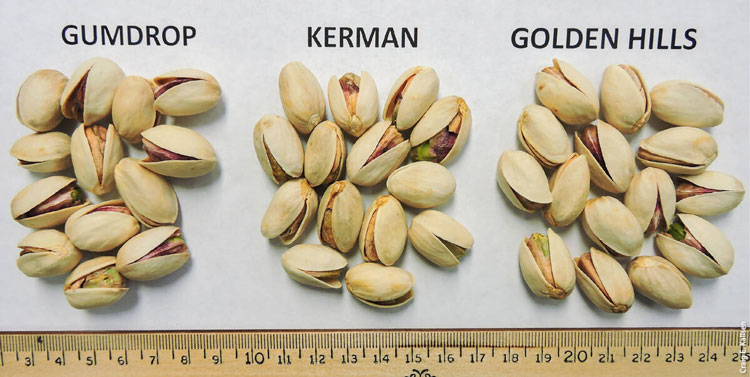 What causes the difference between Iranian and American pistachios?

Pistachios are very compatible with hot and dry summers and cold and moderate winters.
Iranian pistachios have a high kernel to in-shell ratio, meaning you are buying a higher amount of the edible kernels for the same amount of pistachios you buy. The reason is that Iran's weather is more suitable for growing pistachios, therefore the kernels grow more perfectly.

If we divide the pistachio kernel of "Kerman" California in two halves with a sharp knife, a hole will be seen in the cross section of the kernel. This type of cavity exists inside all the kernels of California's pistachios, the only difference is its small and large size. Certainly, the pistachio climate of California causes this phenomenon (air cavity inside the brain); Because California does not have the climatic conditions of the pistachio growing areas of Iran (deserts) to be able to bring the pistachio kernel to the stage of perfection (full ripening of the kernel).In fact, the pistachio product of California looks good, but in terms of quality, it has not acquired the necessary capabilities to compete with the high-quality pistachio of Iran. Iranian pistachio has higher saturated oil, that's why it can be roasted at 160 to 180 degrees. Roasting pistachios at high temperature gives a unique flavor to pistachios; While American pistachio has less unsaturated oil content and cannot be roasted like this. Obviously, the lower roasting temperature of around 120°C would not bring the unique taste of Iranian pistachios. In general, the taste of Iranian pistachios is much more delicious due to the climate.

Their difference in terms of color:
Iranian pistachio kernels have a thin shell. There is a colored circle in the center of the kernel, which consists of several bright and dark red colors. Part of this beautiful color can be seen when the pistachio is in the shell. These colors exist in the thin skin of kernels; while the American pistachio does not have this beautiful color.
In this blog, we tried to show why Iranian pistachios are of higher quality and therefore probably more expensive than American pistachios.

Mimhanafood emphasizes to supply free-aflatoxin and healthy products to its customers. Please don't hesitate to contact us for pistachio market information and price.
We appreciate your inquiries!



Greetings
Mimhanafood team